ATS Features
Become a Smart Recruiter with these Smart ATS Features
We got everything to streamline your company's entire hiring process while decreasing cost per hire and time to hire. Start building a collaborative hiring experience within the company
Multiple Candidate Evaluation Methods
Filter large number of candidates with multiple evaluation types
Filter top talent with your own evaluation strategies
Included with...
Automated CV Filters
CV Shortlisting
On-Site Interviews
Online Video Interviews
External Assesments
Interview Scheduling
Schedule interviews within few clicks. Send invites, collect RSVP from candidates, interviewers automatically
Recruitment Analytics
Sourcing channel performance, Time To Hire, Offer Acceptance Rate, Selection Ratio, etc.
Email Automation
Send automated emails to candidates. Such as welcome emails, rejection emails, etc.
Offer Handling
Handle and track sending job offers to candidates. From getting internal approval to candidate acceptance.
Google/ Office365 Calendar Sync
Automatically sync with your calendar to update event details such as interviews assigned.
Custom Job Pages
Get separate apply pages for each job vacancy. Share it in Linkedin, Facebook, Career Site, Job boards, etc.
HRIS Integration
Push hired candidates to your HRIS. Or export as a CSV and import directly to the HRIS.
Custom Permissions
On board your entire recruitment team with required permission levels. Maintain internal data privacy policies.
Unlimited Users
Build a collaborating recruitment process with your entire recruitment team without any additional charges.
Unlimited Vacancies
There are no limits for creating job pipelines. Scale your dynamic hiring capacities with the business.
Custom Hiring Pipelines
Build unique hiring workflows depending on the vacancy requirement. Combine multiple stages like CV reviews, interviews and find the best candidates. Use automation to reduce Time To Hire.
Unique Hiring Steps
Shareable Job Pages
Stage Level Analytics
Email Automation
Search Candidates
Vacancy Specific KPIs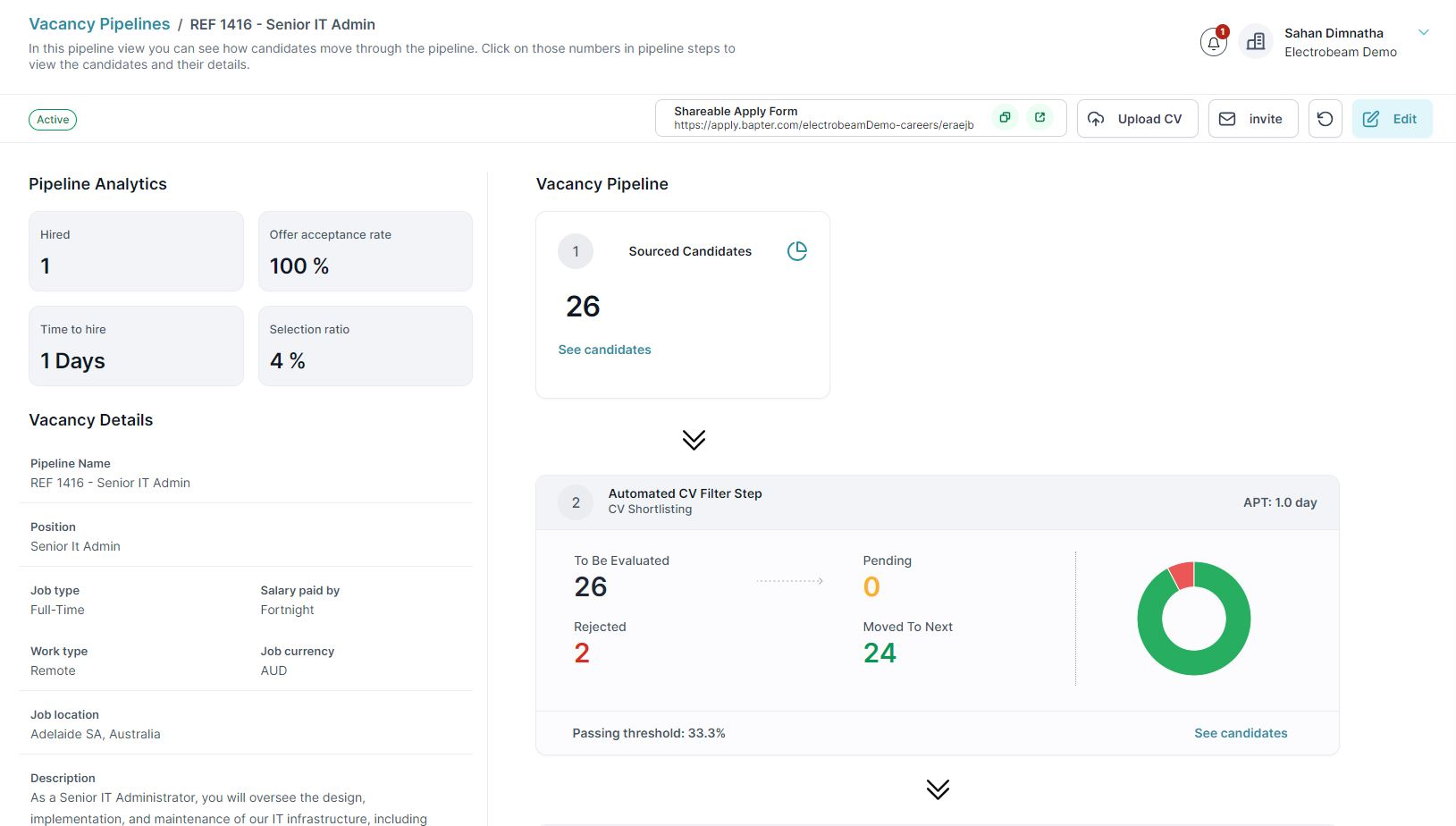 Automated CV Filters
Filter out irrelevant CVs using our automated CV scanner. Use ATS automation to reduce your hiring efforts
Enter the mandatory keywords to look at, HireTrace ATS will choose the CVs accordingly. Stop wasting time on irrelevant CVs.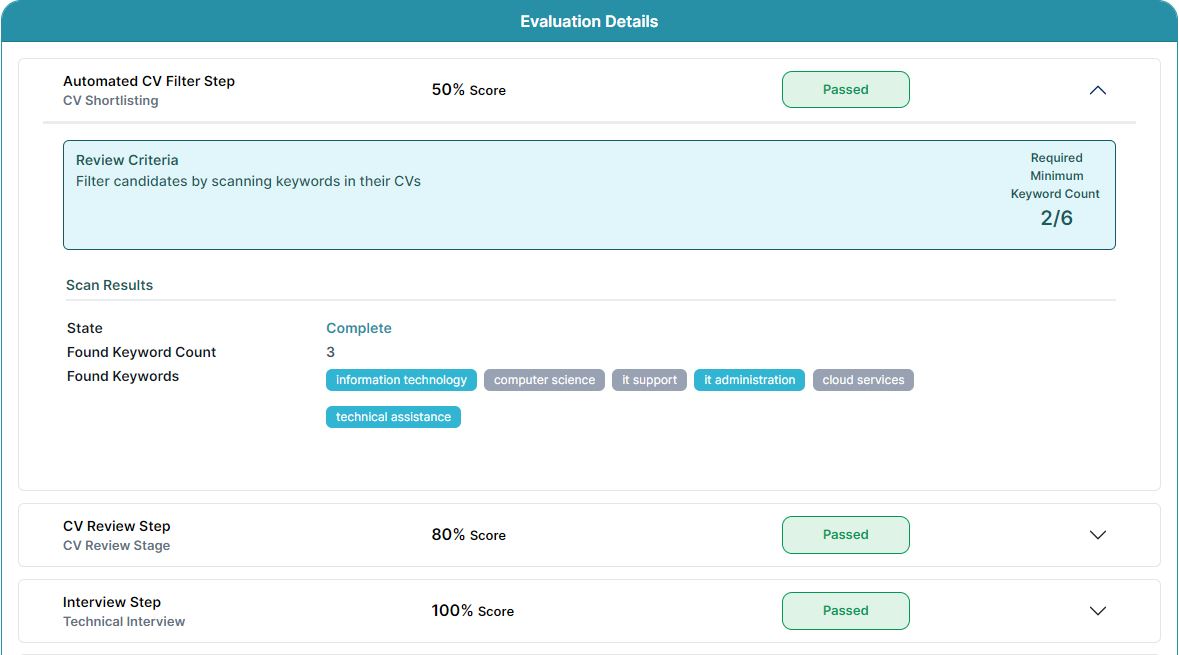 Recruitment Analytics/ KPIs
Measure the efficiency of every little stage with your hiring process. Make sure to fix them to improve the recruitment productivity.
Time To Hire
Selection Ratio
Offer Acceptance Rate
Avg Processing Times
Sourcing Performance
Monthly Trends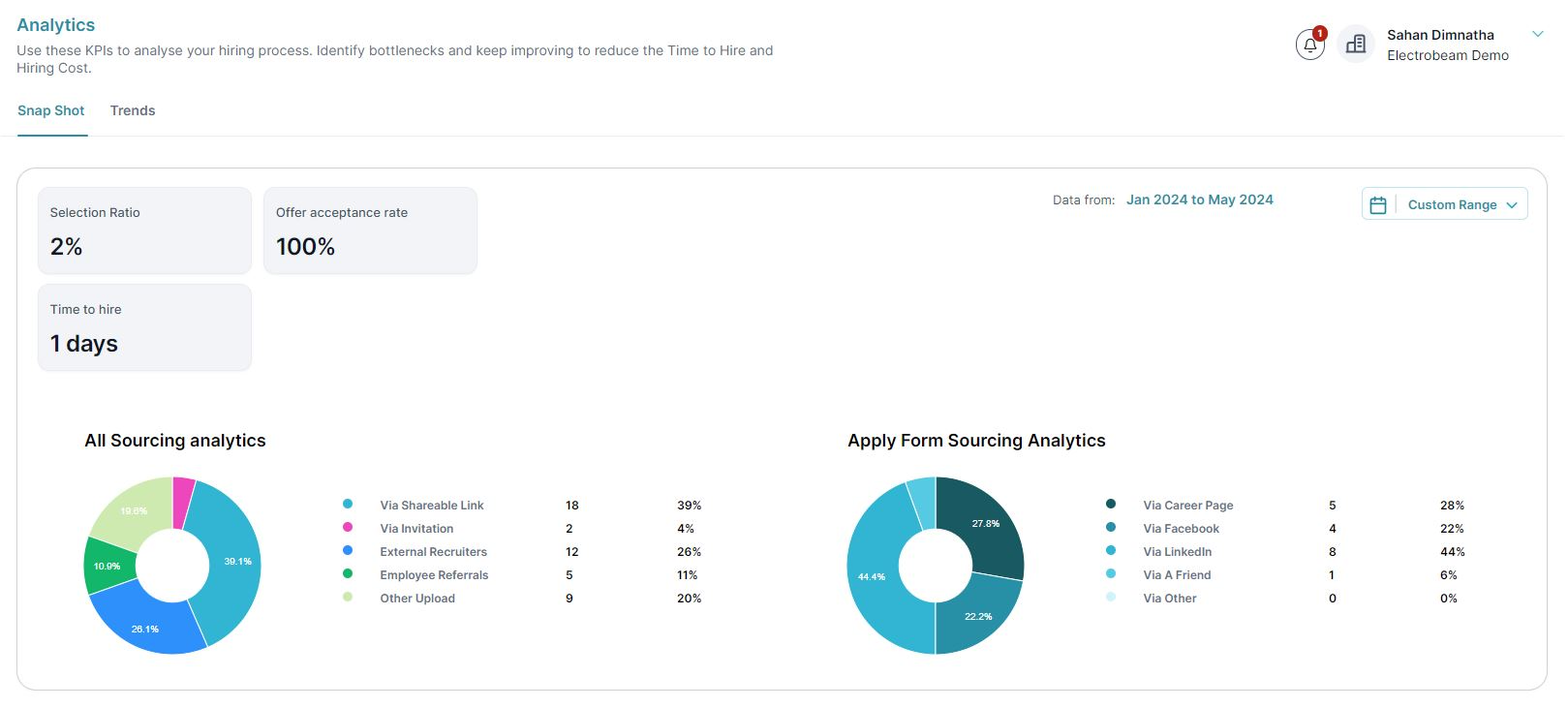 Inbuilt Video Interview
No need to license expensive interview/ video chat tools. No need to open multiple different apps while doing the interview.
Our applicant tracking system offers a fully functional video interview tool which you can easily video chat with the candidate while checking the CV and note down feedback comments.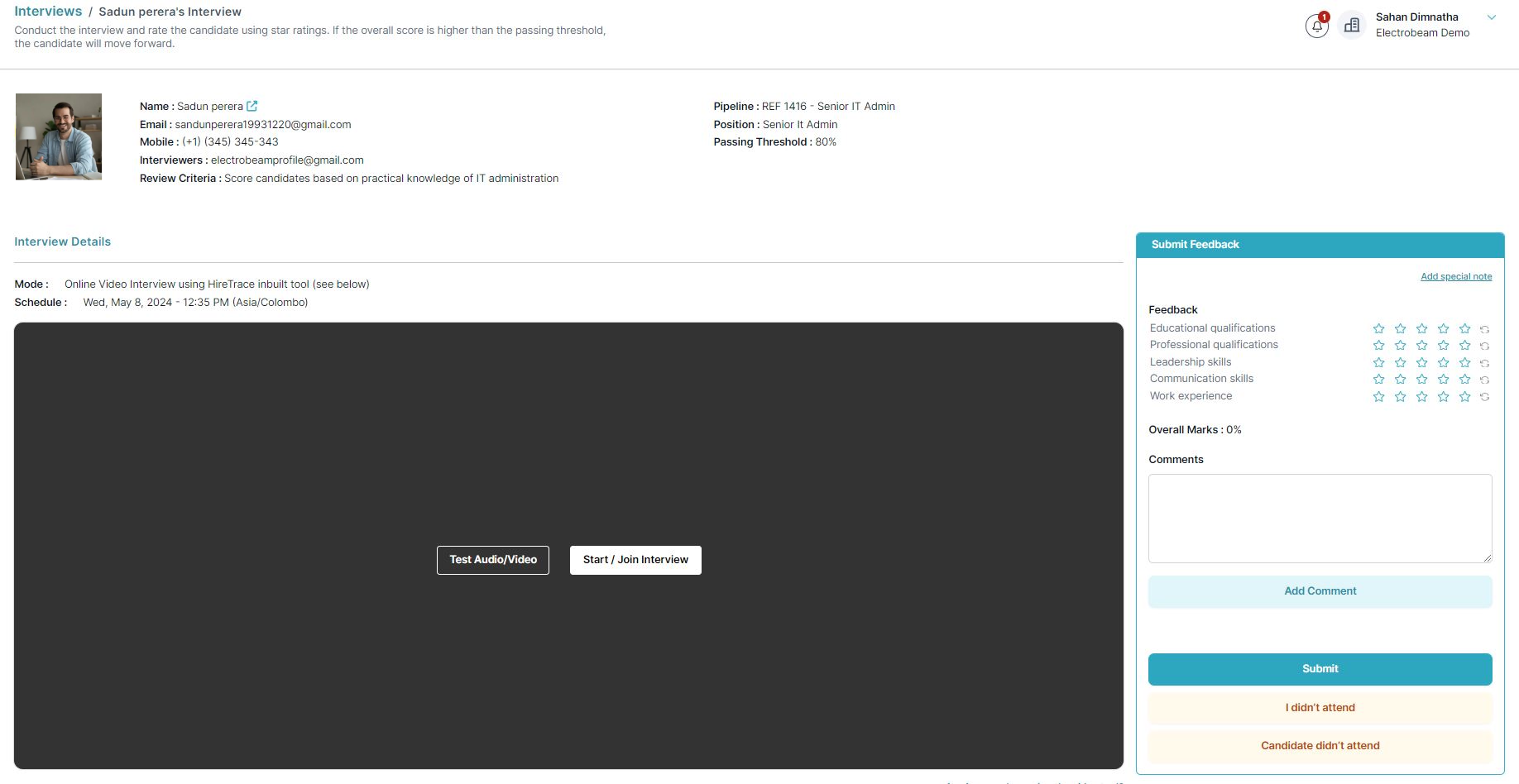 Maintain Candidate Profiles
Everything you want to know about the candidate in a well organized, single view.
Basic Details
Contact Details
Resume
Evaluation Feedbacks
Evaluation Scores
Evaluation Progress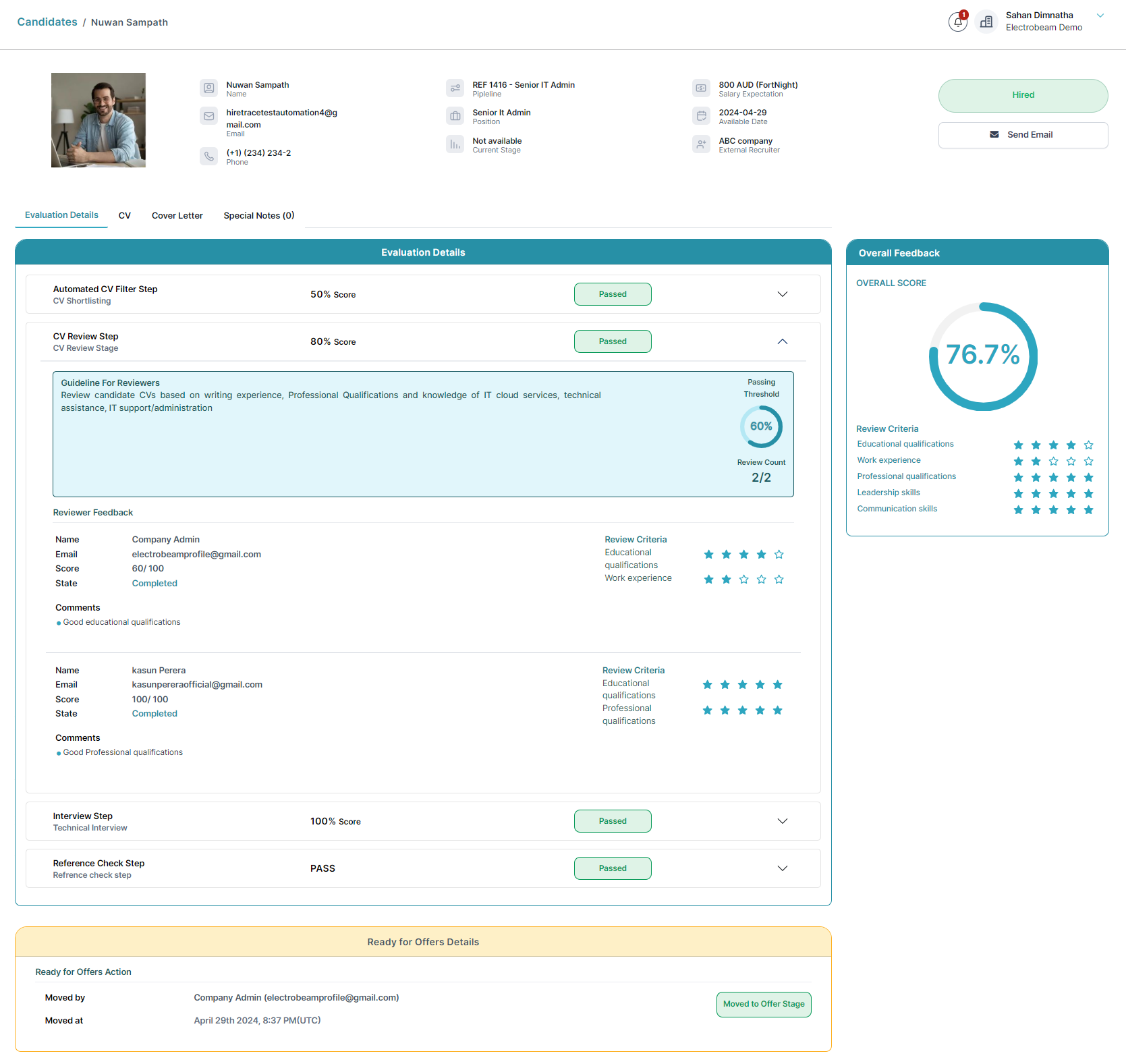 CV Reviews
Automatically distribute CVs among reviewers. All you have to do is create a reviewer pool. HireTrace will assign CVs to each reviewer equally.
Reviewers can easily conduct the review and submit their feedback and scores. HR members can see the progress.
Best Applicant Tracking System
Start Your 14-Day Free Trial
Stop Waiting. Start Hiring with HireTrace
.
No credit card required

No long term contracts

Easy onboarding