#1 Recruitment Management Software
Most Affordable Applicant Tracking System
Recruit faster by automating repetitive manual hiring tasks. Acquire the best talent before it's gone.
All in One Recruiting Software
Not a regular applicant tracking system (aka ATS). We got everything you need to streamline your company's hiring process. We are unique because,
Automation Of Repetitive Hiring Tasks
Reduce Time-To-Hire, and Cost-Per-Hire by automating common hiring tasks.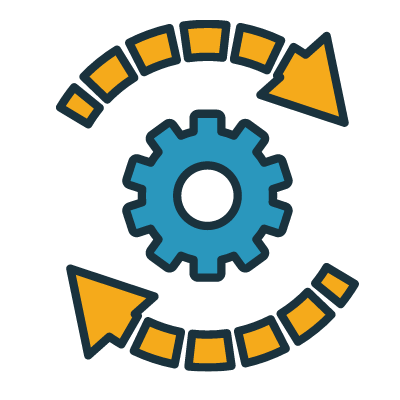 Flexible Pay As You Go Pricing
Stop wasting money on expensive recruiting software. With HireTrace you pay only for the actual usage.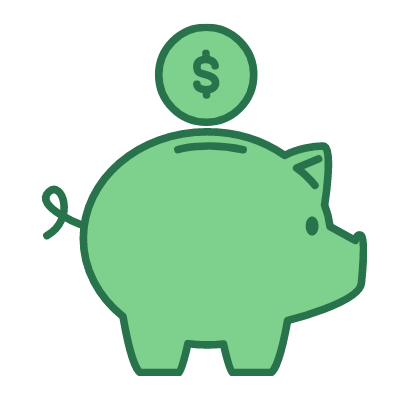 Build Custom Hiring Pipelines
Customise and Integrate all relevant hiring steps into a single pipeline. From sourcing candidates to onboarding. Automate repetitive tasks. Identify bottlenecks using step specific KPIs.
Step Level Analytics

Measure the efficiency of every hiring stage.

Automated Actions

Reduce hiring workload with task automation.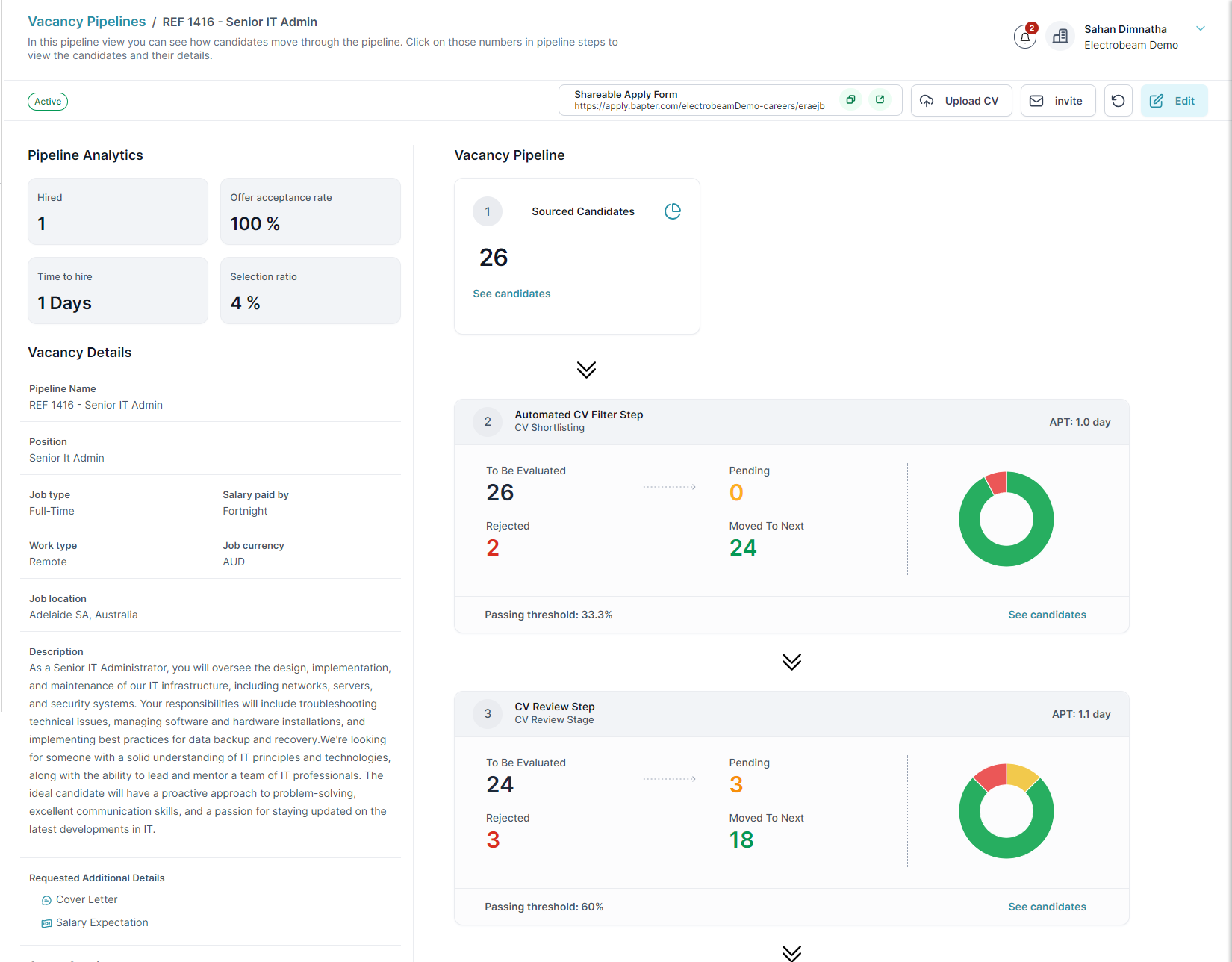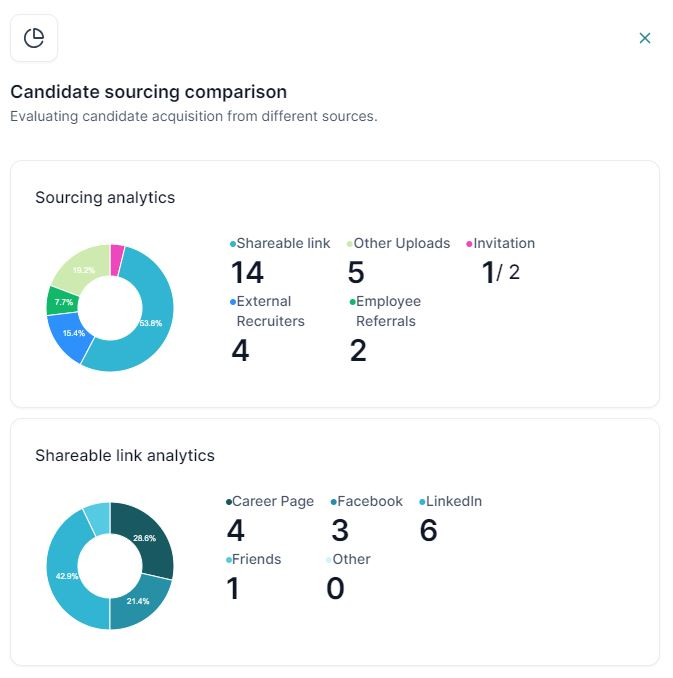 Vacancy Pages with Customised Branding
Define the job description once and share it everywhere. Build custom vacancy pages with company branding which can share in Linkedin, Facebook, Job boards, career site, etc.
Custom Branding

Customise according to your company's brand guidelines.

Easy Configurations

No need to hire a developer to setup vacancy pages.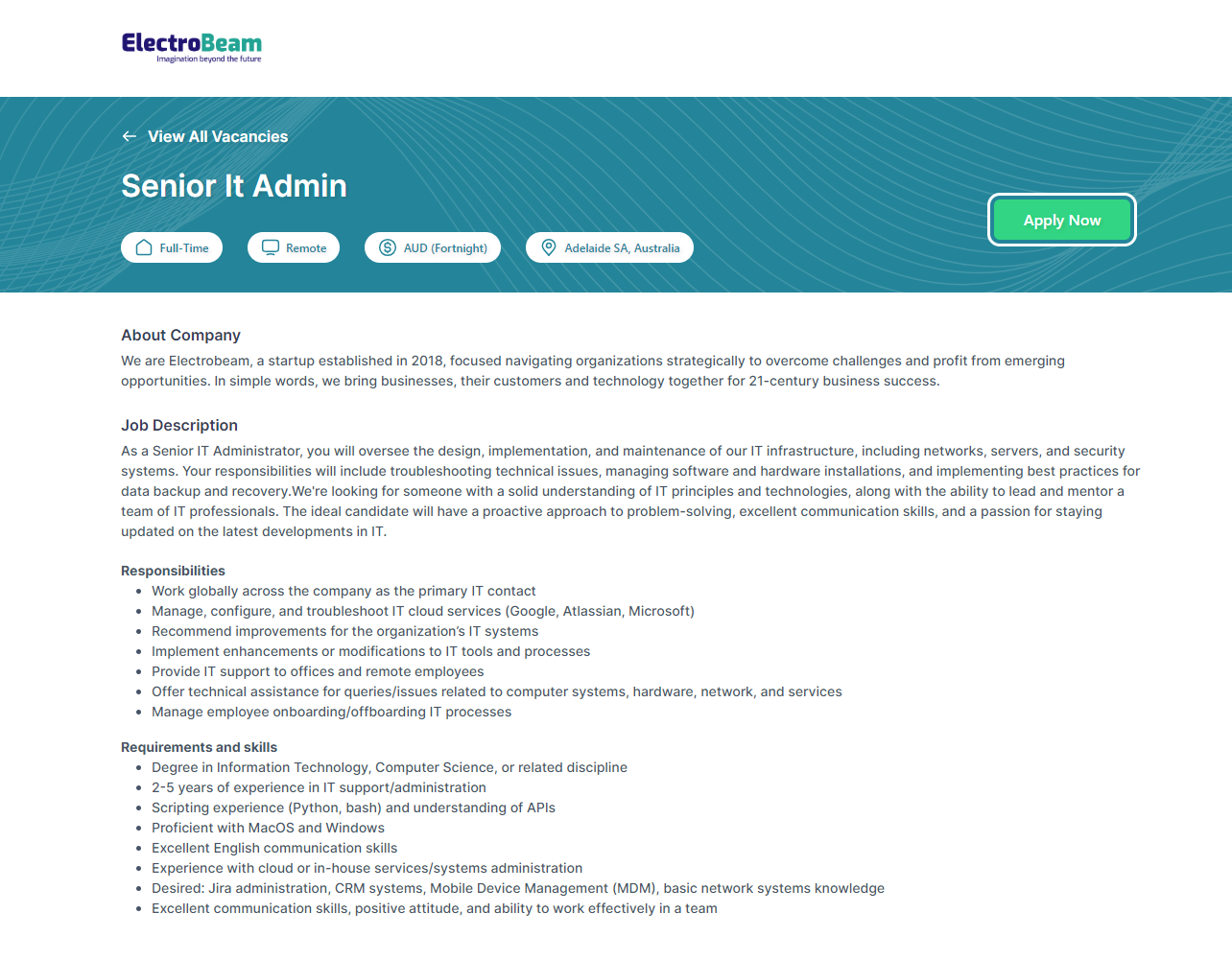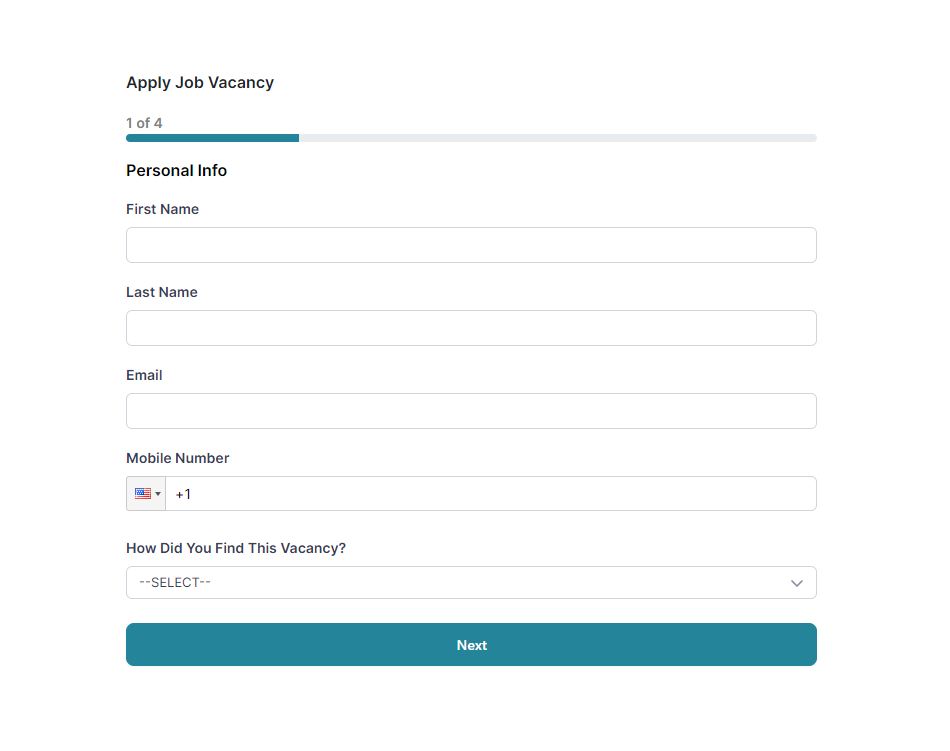 Track Candidate Progress
Everything you need to know about a candidate in one centralised place. Including, CV, contact details, interview feedbacks, evaluation scores, etc.
Candidate Profile

Basic info, contact details, resumes, evaluate progress.

Evaluation Feedbacks

Interview feedbacks, assessment scores, special notes, etc.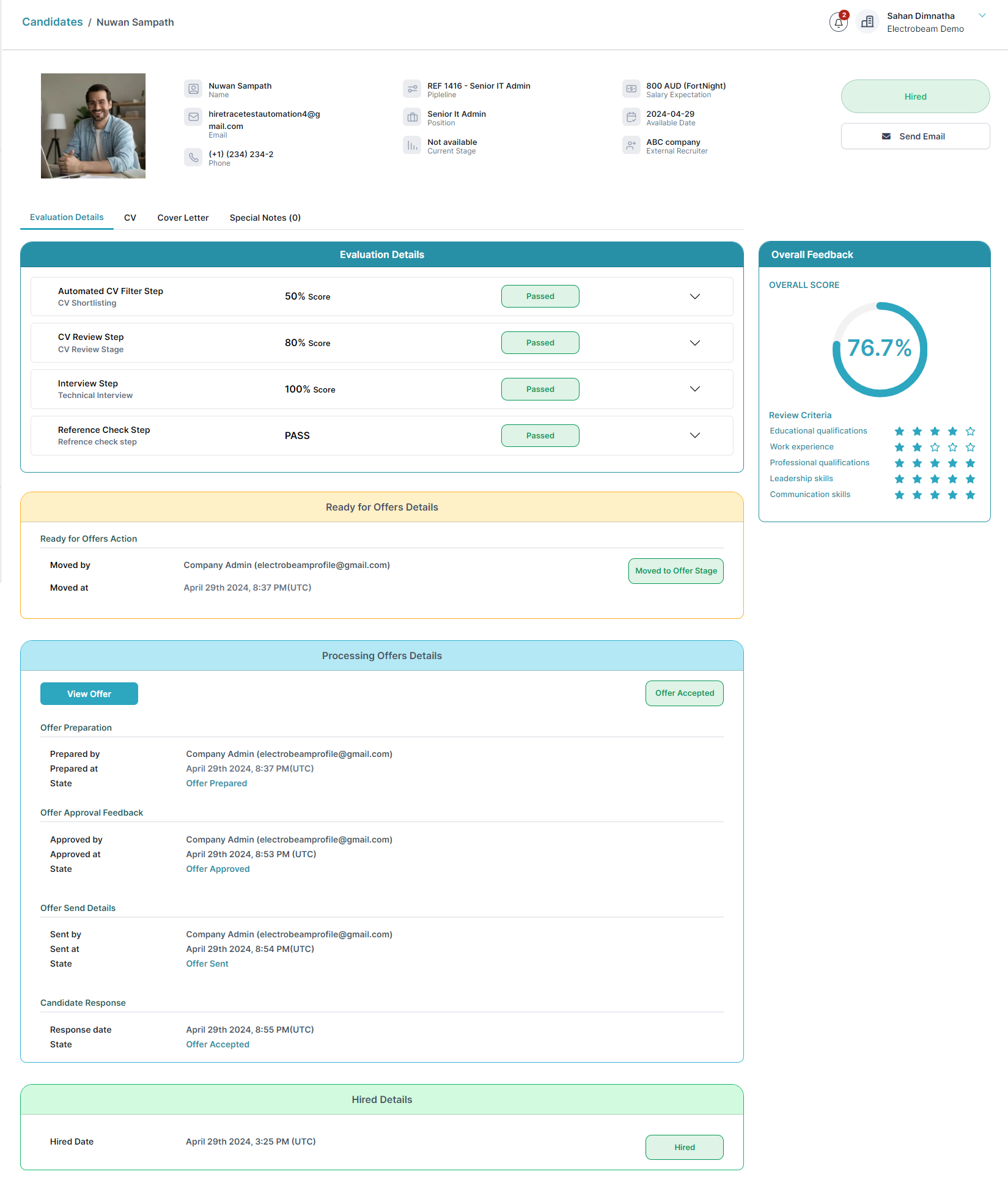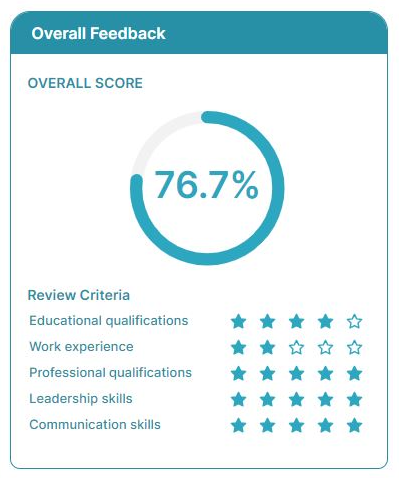 And Everything Else You need to Hire Faster
We enable smart recruiters with our smart, innovative tools and features.
ATS FAQs
Frequently Asked Questions
Learn more about the #1 applicant tracking system in the market. Explore all these benefits for your company's recruitment process.
The problem with legacy recruitment practices is lack of efficiency. When it comes to hundreds of CVs, your legacy tools like excel sheets will slow down the hiring process which will increase the Time-To-Hire. Meanwhile, good candidates will get hired by the other companies.
Mainly because the level of task automation and the flexible pricing model. With HireTrace, you can reduce the hiring workload by automating most of the repetitive hiring tasks. Also, with our pay as you go pricing model, you only have to pay us when you actually evaluate candidates. In other tools it doesn't matter you hire or not, Still have to pay a fixed fee every month.
Absolutely yes. It doesn't matter you have one vacancy or hundred vacancies per month, you can use HireTrace to hire employees faster. And pay only for the actual usage.
No. You pay only when you use HireTrace resources to evaluate candidates. Simply if you didn't use the tool for evaluating candidates, your monthly bill will be zero.
No. You can have any number of job vacancies and evaluate any number of candidates at any time. Also, you can onboard your entire recruitment team without any additional cost.
Yes. Using our HRIS connection option (webhook) you can push hired candidate details to your HRIS. Or you can export a CSV file and import to HRIS directly.
Best Recruitment Management Software
Start Your 14-Day Free Trial
Hire Smart Talent, Faster and Easily
No credit card required

No long term commitments

Easy onboarding
Why HireTrace
Why Companies Like You Choose Us
Because we keep going for that extra mile to solve bottlenecks in their recruitment process.
ATS Features We Offer
Trusted Security
Your data will be always safe with us. We follow the toughest security standards.
Fast, Global Support
Our customer support team available on email and live chat. Feel free to contact whenever you need any support.
Assisted Onboarding
Set up your account and start hiring within few hours. We guide you throughout the process.